CONTROL YOUR OWN DESTINY
WITH THE HELP OF MAGI ASTROLOGY
EXAMPLE: MADONNA AND ALEX RODRIGUEZ
July 8, 2008
In our books and on this website, we have given you many examples of how Magi Astrology can help us to truly understand any relationship.  For example, Magi Astrology helps us to know:
· If two persons can fall in love
· If two lovers would stay in love, or
· If two lovers will fall out of love
That is great.  But Magi Astrology can do much more. The best part of Magi Astrology is it can help us control our destiny, such as getting married on a perfect astrological day or finding a better job and making more money. 
Magi Astrology can even help us to know when we have to be extra careful so that we do not end up having a broken heart because our loved one had an affair.  This article will teach us the basics of how to do this.
WE CAN USE MAGI ASTROLOGY TO
PREVENT HEARTBREAK
When a person is in love and has to endure infidelity, it can be just about unbearable.  But Magi Astrology can help us to avoid having to go through such disasters.
With the help of Magi Astrology, we can know if infidelity is in the stars and take measures to prevent cheating from actually destroying the relationship we have with the one we love.
Magi Astrology can do this because it helps us know:
· IF our loved one is susceptible to being unfaithful
· WHO our loved one might want to have an affair with and
· WHEN our loved one is most likely to have an affair
By knowing all this, we do not have to stand by and watch it all happen.  Instead we can be masters of our own destiny and use Magi Astrology to prevent it from ever happening at all.
The affair of Madonna and A-Rod is a perfect example of what we are talking about.
MADONNA AND A-ROD PLAY BALL TOGETHER
US Weekly magazine reported the two started "hooking up" after Rodriguez attended her April 30 concert in New York.
So April 30, 2008 is the key date to remember in this famous affair.
In fact, since then, A-Rod has been seen numerous times entering Madonna's Manhattan apartment late at night. Even thought this had been going on for a couple of months, the press only got wind of it last week when one of her doormen tipped off a tabloid.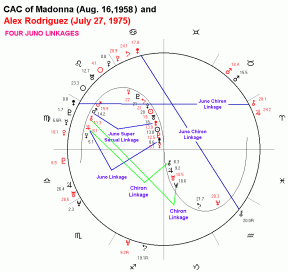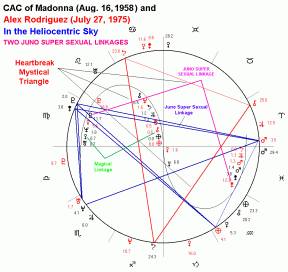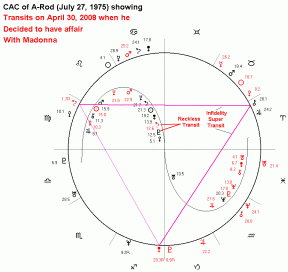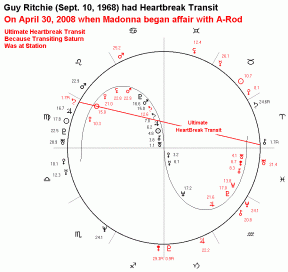 MAGI ASTROLOGY IS A MESSAGE OF HOPE
If you are depressed or nothing seems to be going right, it means you are having bad transits or bad progressions. Please do not despair.  Keep working hard and do not do anything you would regret.  Sooner or later, the bad stars go away and good stars come back.
Magi Astrology is a message of hope!  You can utilize Magi Astrology to help you prevent disasters in business and in love.  Even better, Magi Astrology helps you to improve your life and fulfill your dreams
HOW TO LEARN MAGI ASTROLOGY AND GAIN THE MAGI ADVANTAGE
Magi Astrology is the only form of astrology that actually helps you to improve your life. With Magi Astrology, you can improve your love life and your career; and you can avoid heartbreaks in both love and business. Even better, Magi Astrology helps you fulfill your dreams, find true love and make more money. This all may sound like quite an exaggeration but please judge for yourself. We invite you to a free download of the first 14 chapters of our third book by clicking here. Reading these chapters is the best way to begin to learn Magi Astrology.
© 1999-2008 by The Magi Associates, Inc. All Rights Reserved.