THE DEATHS OF THE KENNEDYS WAS AN AVOIDABLE TRAGEDY
THE USE AND APPLICATION OF MAGI ASTROLOGY WOULD HAVE SAVED THREE LIVES
Below is the Magi Astrology Chart of the crash of John Kennedy, Jr.'s plane. The planets inside the circle are the positions of the planets as measured in the declinations. Note that Saturn was exactly parallel Mercury and exactly contra-parallel Mars. In Magi Astrology, such an alignment is a celestial sign that there could be a tragic (Saturn) accident (Mars) while traveling (Mercury). There was also a Saturn-Uranus square in the longitudes, which can signal trouble (Saturn) for flying (Uranus).
Chart erected for 9:41 PM EDT on July 16, 1999, at the crash site.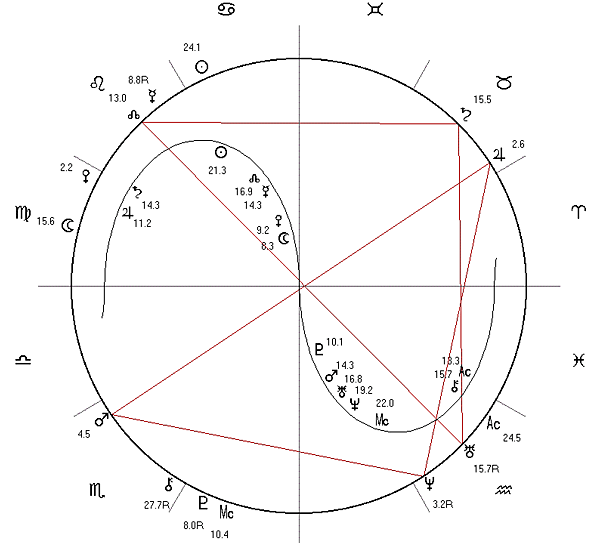 Such events are avoidable. If Kennedy understood Magi Astrology, he could have chosen to not fly that night. Instead, he chose to fly at a time when an accident was most likely. The key was in the declinations. Had he refrained from flying, he would be alive today. Magi Astrology helps you to take control of your life, at times literally. This is an example of one of the great benefits of learning and using Magi Astrology.
© 1999-2001 by The Magi Associates, Inc. All Rights Reserved.
Magi Astrology is a trademark and service mark of THE MAGI ASSOCIATES, INC.